Being a Responsible Polar Explorer
Polar Latitudes is a small company, and we're proud of that. But when it comes to caring for our fragile planet and supporting those who share it with us, we tend to act big. Some of what we're doing:
Reducing Emissions by 20%, and Shooting for the Moon
Recently, we consolidated our Antarctica voyages to one ship, the Seaventure, which meets the highest emissions standards set by the International Maritime Organization, reducing our CO2 impact by 20% per passenger. Looking into the future, we're engaged with a team of experts in energy innovation, green technology, propulsion and design, committed to producing a "supergreen" ship – that will reduce carbon emissions by 40% initially and ultimately, almost completely. While admittedly a highly ambitious, long-term endeavor, Polar Latitudes is in it for the long haul.
Recycling, and Working With Others Who Do
We provide a state-of-the-art expedition jacket to every passenger onboard. Seeing an opportunity, we engaged Polar outfitter Shackleton London, and our jackets are now made from 100% recycled material, an industry first. Even the plastic packaging has been eliminated.
Saying No to Harmful Plastic
We all know about the harmful impact of plastic on wildlife and the environment. Over the past three years, we've cut our onboard use of plastic in half, with a goal of zero unrecycled plastic by 2025.
Being Good Neighbors
Our "Local First" initiative prioritizes local suppliers and supply chain resources – emphasizing those that demonstrate sustainable practices – to minimize carbon impact and support the communities that serve us so well. Supporting local initiatives like the South Georgia Heritage Trust is another way we're there for our "neighborhood" friends.
Acting Locally, While Partnering Globally
Teaming up with global organizations like Woods Hole Oceanographic Institute, Scripps Institute of Oceanography, and UK Antarctic Heritage Trust has dual benefits: delivering critical assistance to climate and conservation research, while also enriching our onboard Citizen Science program, a program we pioneered. Citizen Science gives our passengers the chance to better understand changes taking place in the Antarctic environment, and to play a tangible role in shaping a positive future.
Pitching In Wherever We Can
All in all, we've offered fund-raising and logistical support to more than a dozen organizations focused on conservation, environmental education and community support. Scroll down to see some of the organizations we are currently supporting with links to learn more or support them yourselves.
How You Can Get Onboard
Inspired passengers often ask how they, too, can get involved. Our Citizen Science program is a great place to start. We also encourage people to attend any or all of our onboard presentations from experts in environmental science, wildlife conservation, and Antarctica's incredible history. Also, feel free to join us in supporting any of the organizations represented here; or to look for organizations in your own communities that are doing the good, hard work of caring for planet earth.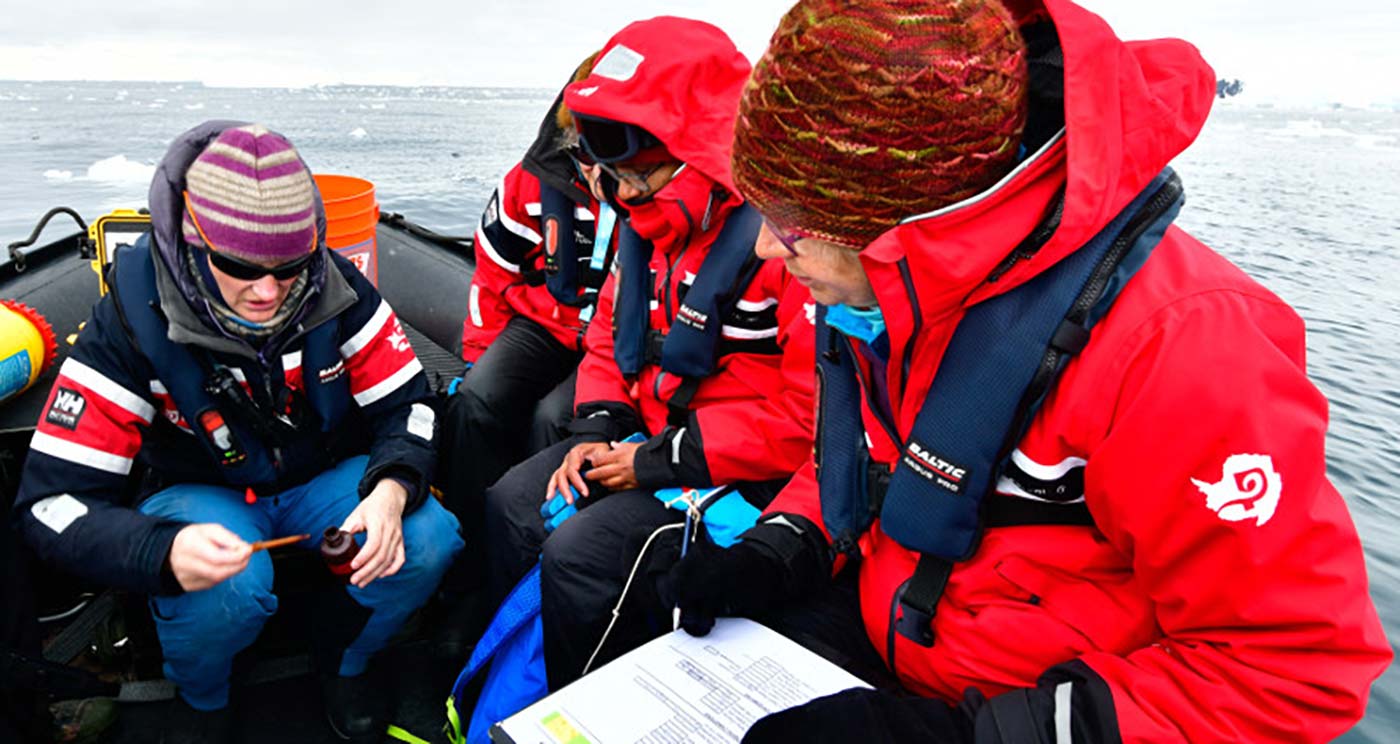 Sic consequentibus vestris sublatis prima tolluntur. Nihil est enim, de quo aliter tu sentias atque ego, modo commutatis verbis ipsas res conferamus. Hic quoque suus est de summoque bono dissentiens dici vere Peripateticus non potest. 
Crew Welfare Fund
An obliviscimur, quantopere in audiendo in legendoque moveamur, cum pie, cum amice, cum magno animo aliquid factum cognoscimus? Varietates autem iniurasque fortunae facile veteres philosophorum praeceptis instituta vita superabat. Aliis esse maiora.
Nam illud quidem adduci vix possum, ut ea, quae senserit ille, tibi non vera videantur. Non enim, si omnia non sequebatur, idcirco non erat ortus illinc. Scripta sane et multa et polita, sed nescio quo pacto auctoritatem oratio non habet. Ergo hoc quidem apparet.